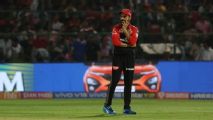 Just can't win: losing streaks from around the world
RCB beat Kings XI Punjab to snap their six-match losing streak in the IPL on Saturday. There have been much worse losing streaks in the world of sports over the years. We list some infamous ones.
Friends to foes, Maker ready for another crack at Antetokounmpo
It didn't take too long for Thon Maker to realise that taking on the NBA's likely MVP, Giannis Antetokounmpo, during a playoff game was a different kettle of fish to going up against him during a practice session.
Drummond gets tossed for shoving Giannis
Andre Drummond shoves Giannis Antetokounmpo, resulting in a flagrant 2 foul that ejects him from the game. Blake Griffin is also hit with a technical from the bench.